American student loan debt
The United States is the second-largest form of consumer debt behind mortgages. The outstanding American student loan debt is $ 1.52 trillion in this country, as per the average student loan debt statistics 2019
The student below the age of 24 are likely to borrow more amount of debt to complete their university education
The Brookings Institute estimates that almost 40% of the student who entered college in 2004 by borrowing money may default in their student loans by the year 2023.
American student loan debt in America-how it began and its present status
Many Americans are unable to forget the 2008 financial crisis that overtook all the economic prosperity of the nation and they are still recovering from this. Almost everyone knows the situation of how people lost jobs, their savings and even home after the crisis. The effects of the great recession were felt in an economy whose primary cause was subprime lending in the mortgage industry. In the early to mid-2000s, lenders introduced such products that yielded zero interest and added a flexible payment option. Student Debt Crisis
In this way, borrowers were highly interested in taking on more debt than they could afford. However, slowly it set up a chain of defaults due to unrealistic market products and turned up into a recession. This type of risky lending and market speculation should be a clear warning to the student loan industry today.
Higher education to university is being increasingly necessary all over the world not only America. Today's young generations are often encouraged to borrow this amount because they are unable to pay all the fees from their job. Student loans now hold around $ 1.4 trillion of outstanding debt. They have become the second-largest category of household debt in the US. The federal government lends higher student loans in the United States.
Moreover, tuition fees are rising rapidly at both public and private institutions. The college costs have grown three times the rate of inflation over the past 20 years. As a result, 70% of college graduates in America have student debt. In this way, the average borrower owes more than $ 37,000 at graduation.
Consequences of American student loan debt
Many students take out the loan debt without clearly understanding its purpose and value. Choosing a college is a significant decision in student life. College environment and its opportunities are some of the factors that will encourage students to move forward in the future. Some parents want their children to attend the best university regardless of cost. However, cost plays a major role in the future.
The student must choose their major subject at the university, which makes them more challenging to pay back their loans. Some students even leave school without completing their degrees. It is estimated that approximately 40% of students who pursue higher education are unable to complete it and leave education with no hope at all. The percentage is even higher for those students who join private colleges.
The educational institutions, both profit-oriented and non-profit one is eager to enrol students in their learning environment. Those students who leave their studies without getting a degree are struggling for higher-paying jobs. Recent graduates who are unable to obtain any job in their related field enrol themselves in other programs, further increasing their debt loads.
The financial impact is very high, which lasts longer. Many borrowers don't pay back their loans until they are at the age of 40s or older. A significant number of students are unable to settle down all their loans completely. In this way, high student loans will make an impact on student credit scores. Moreover, students are unable to make a capital expenditure in their life or get ahead in life.
Here are some of the ways you can do to reduce your debt
1. Make a list of all the debts and details
Many Americans neglect the amount they owe on credit cards because they do not like to know the debt they owned. However, they are better at knowing mortgages and car loan balances. That is essential to know the total debt balance for every lender. It is better to make a balance transfer credit card to remove the existing debt faster. That helps to avoid costly interest charges.
2. Determine what the debt is costing
It is also essential to know how much the debt is costing to an individual on a monthly or daily basis. The charge of debt is the interest rate which has a direct relationship with the amount of money to be paid. A longer repayment time also means that more money is to be paid back, although monthly payment might seem smaller.
Many people look at the monthly amount to be paid instead of the total amount to be paid back along with interest. We can also use a simple calculator to know how much the loan is costing if it is stretched for a more extended period. There will be more quick and easy decisions.
3. Make minimum payments every month
In most of the cases, borrowers have minimum monthly payments to be made for the loan they have taken off. Creditors might even charge the late fee if the minimum payment is not made on time. This increases the amount to be paid back, damaging the credit score. Therefore, it is essential to refer back to the list of creditors and minimum amounts due to each of them. It would even be better if borrowers sign into the credit accounts and set up automated payments for every debt. In this way, borrowers never have to worry about being late.
4. Get help if you struggle to pay
If borrowers do not have a liquid asset on their hand, they need to look at other different options. The better they can do is to talk with creditors regarding this issue. Mortgage lenders, car loan as well as credit card lenders are often willing to discuss regarding those issues. Borrowers need to communicate with lenders that they are not able to make the payments so that the problem could be solved quickly. In the way, the loan payment terms could be modified whose details must be written down and agreed upon by both parties.
On the other hand, there are also debt relief companies who promise to help if someone is struggling with heavy loans. These debt relief companies contact the creditors and make an offer to settle the loans less than owed by the actual borrower. However, such companies must be viewed and searched carefully on the Internet.
5. Understand the impact of debt on credit score
Debt can also offer the credit score. A lower credit score means borrowers need to pay more to borrow at a higher rate of interest. The credit utilization ratio also plays an important role in determining the credit score. Generally, borrowers should not use more than 30% of available credit to maintain their credit score. Similarly, stopping to use credit entirely also lowers the credit score. Individuals need to build a positive payment history for their timely borrowings to increase their credit score.
6. Determine debt-to-income ratio
Income of the borrowers matters the most while determining the amount of debt owed. Therefore, it is very important to know the debt-to-income ratio. It compares the amount owed to the amount earned. If the amount earned is higher than the amount owed, borrowers are at the safe side and vice-versa. It is essential to make total monthly debt payments versus monthly income. The debt-to-income ratio will also help to determine if the debt could disqualify an individual from borrowing money in the future. For example, borrowers won't disqualify for a mortgage if their debt-to-income ratio is above 43%.
7. Choose a debt repayment strategy
If individuals have decided to pay down their debts anyhow, they need to adopt the debt repayment strategy. This strategy includes two main points:
Which debts to pay off early
Which order to pay off debts in
One important approach is to consider repaying the debts with the highest interest rate first. That makes the mathematical sense as sooner we get rid of high-interest loans, the better off we will be. There is also another simplified approach called a debt snowball method. This approach involves paying off the smallest debt at first, then moving onto your next smallest debt. For debt repayment, this approach is found better by researchers as it motivates many borrowers
Here are the lists of the top 5 cities of America with their balance and the borrowers
| | | |
| --- | --- | --- |
| Name of state | Balance ($in millions) | Borrowers (millions) |
| California | 135 | 3.8 |
| Texas | 107.3 | 3.4 |
| Florida | 90.8 | 2.5 |
| New York | 87.3 | 2.4 |
| Georgia | 62.4 | 1.6 |
5 cities of America with their balance and the borrowers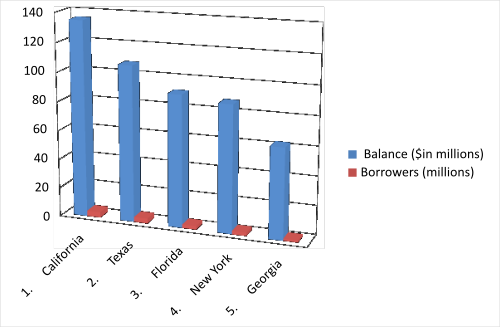 In the above diagram, the number of borrowers, as well as the amount borrowed, is higher in California. California is the western US state which is ranked in 21 in the higher education rankings of the world. Various educational institutions are established over here that guarantees better quality education. Similarly, Texas comes in the second position with 3.4 borrowers and $ 107.3 million in balance. However, Georgia comes in the 5th position, with only 1.6 million borrowers and $ 62.4 million in balance.