INTRODUCTION
An organizational structure determines the working pattern of the company. There exist many corporate structures. The organizational structures that Forbes classified are:
Traditional hierarchy
Flatter organizations
Flat organizations
Flat arches
Holacratic organizations
Flat organizations have the lowest hierarchy possible. There is no job title or seniority. Everybody is on the same level. Mostly, flat organizations have only bosses and employees. There are no managers or executives.
Flat organization reduces middle management. Some organization removes it too. So there is a lesser hierarchy between boss and employees.
Flat organization is also called a self-managed organization. Employees manage their works themselves. Everyone makes their own decision. And they are responsible for their work.
Valve is the most famous example of a flat organization. It is a gaming and designing company. Valve includes games like Half-Life, Counter-Strike, Portal, and so on. There are no job titles at Valve. Nobody tells employees what to do. Employees are free to choose any project. They can start their project as well. Employees should manage the teams and funds themselves. So, this aspect is taken differently by different individuals. Some find it interesting. Some see too much risk.
So far, there is almost no company like Valve. No other company has such a flat structure. However, many organizations have a flat structure.
PROS OF FLAT ORGANIZATION
Low costs
Flat organizations have few layers. There is no middle management. Flat organization only consists of bosses and employees. So there is less expense in salaries. Also, there is no system of promotion in a flat organization. Promotion would lead to a pay raise. No promotion means no pay raise. This again reduces salary expense.
Similarly, there are no separate departments in flat organizations. Existing employees can work temporarily in a particular field. This cuts the cost.
Adaptability improves
Employees of a flat organization have adaptability. They deal with various situations themselves. This increases their effectiveness in the work. They get better experiences. From that, they can adjust to any situation.
For example there is a customer complaint. The front line employees handle it themselves. They learn from the experience. From next time the process becomes more efficient. This also improves customer satisfaction.
The adaptability in a flat organization is very helpful. Unexpected things can happen in an organization. Since all the employees work themselves, they can serve the organization well. Employees don't need their seniors to make decisions. They can handle the emergency themselves.
Better work environment
In a flat organization, the communication is better. There are no hierarchies. So employees can share their problems without hesitation. Everybody is on the same level. So they can freely share their ideas.
Also, employees can directly talk to their boss. So there is no chance of misunderstanding.
Flat organization has few hierarchies. So employees don't face bullying.
Innovation and creativity
Employees take their own decisions in a flat organization. This makes them creative. They get new experiences. They learn from their experiences.
Also, all employees are at the same level in a flat organization. So ideas come from all of them. The diverse ways of thinking make the work innovative.
FLAT VS. HIERARCHICAL ORGANIZATIONS
Mostly, organizations have either a flat or hierarchical structure.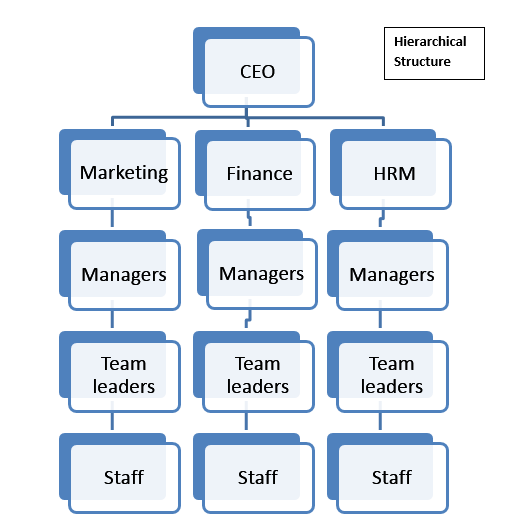 Let's compare the characteristics of these two structures:
| | |
| --- | --- |
| Flat Organizations | Hierarchical organizations |
| Flat organization has few or no levels of management between bosses and employees. | A hierarchical organization has multiple layers. It follows the pattern of a pyramid. There are few members on the top, just like a pyramid. Then the number increases as the pyramid goes down. |
| Advantages It makes employees independent. They make their own decisions. It removes the middle management. This saves costs. It also makes communication fast. Organization can make quick decisions. | Advantages There is leadership. The leadership quality improves. There is an opportunity for promotion. This motivates the employees. |
| Disadvantages Many employees hesitate to talk to their boss. This creates confusion. Employees are general. Flat organization does not make specialist. Flat structure is less effective in large organizations. | Disadvantages There is competition among departments. Bullying can be noticed too. The cost is high. Every layer get salaries. Decision making is slow. The content can be missed while passing through many layers. |
| A flat structure is suitable for small organizations. | A hierarchical structure is suitable for large organizations. |
| Communication is done from bottom to top and vice versa. | Communication is done in all directions. |
| Flat organizations are more flexible. | Hierarchical organizations are less flexible. |
CONS OF FLAT ORGANIZATION
The flat structure is hard to manage. When a company grows, a flat organization can be messy. Flat structure can create chaos. The confusion increases as well.
Flat organization lacks supervision. Employees take the decisions themselves. Sometimes, low guidance can lead to big mistakes.
When employees make mistakes, the work becomes slow. They have to correct it on their own. That can be stressful.
There are no managers to look after employees. So in a flat organization, employees don't have fear. They lack responsibility. The discipline lowers too.
There is no system of promotion. Flat structure demotivates employees. Eventually, employees lose interest. It becomes hard to retain them.
Flat organization lacks management. It can be irritating to some employees. The work does not become systematic.