The 4ps of Marketing: Product, Price, Place and Promotion
The 4ps of Marketing provides insight to successfully build up brand image and deliver the product at the marketing place. Concept of the marketing mix and the steps involved in the process is very essential for a marketer.
Marketing techniques, content marketing, social media, mobile marketing, and marketing automation have emerged to increase customer satisfaction through value addition in the final product/service
Overview of marketing and marketing mix
Marketing mix, and 4Ps of marketing are said as synonyms terms one another. The 4 P's is considered one of the best ways of delivering the marketing mix that was first expressed in 1960 by E. J. McCarthy. Consumers are better informed through various communicational technologies regarding brand choices and preferences these days.
Peoples do not only depend on the information by the marketer. Consumers build up self-analysis strategies because of various online marketing platforms. Targeted customers use various communicational tools- ranging from TV channels, radio and print ads to social media. 
The 4ps of Marketing includes:
1. Product
Product encompasses various things such as variety, design, packaging, quality, and features. Consumers are being more conscious and knowledgeable about their purchases. Therefore, the emphasis on that is constantly growing. Also, there is more added stress on marketers regarding solutions to complex marketing expectations from the side of customers.
For example, reliable return policies and warranties are becoming extremely important at a time when our competitors are also searching in a Google way. People's access to more immediate information with the result of technological advancement is increasing challenges among marketers on how to create value and satisfaction for them.
2. Price
Price simply refers to the cost of the producer along with the added up margin on it. In a broad sense, it refers to how much a customer is willing to pay for a product or service. Pricing strategies are becoming more dynamic when marketers have to deal with highly educated customers.
Discounting strategies may seem attractive for some consumers but not for all. The technological advancement has allowed manufacturers to break the chain of intermediaries and sell directly to the customers. All these changes create a demand for value-based marketing.
3. Place
Place refers to how accessible or approachable a product is to a large number of customers. A famous retailer company like Amazon could enhance coverage when trying to turn the brand into a household name. This "P" has been better known for the introduction of e-commerce.
However, if companies are switching to sell their product on a website, it could affect the relationship with distributors. Marketers believe that placing a product on Amazon is a great way to increase awareness of a product. It can also increase the credibility of the website due to trusted reviews.
4. Promotion
Promotion is the visible 'P" which includes promotion, advertisement, and sales. Integrated marketing communication (IMC) is very important to identify target customers who will be served. Integrated Marketing Communication provides a clear, consistent and compiling message about the organization and its products to attract a large number of existing and potential customers. It is also very important to incorporate the views of those who are quite familiar with the new and emerging media mix. The advertising challenges of most of the companies are solved through platforms like Instagram, Face book and Twitter where the marketers automatically know how to sort out any problems.
IMC provides benefits in various ways. Some of them include:
It reduces transaction cost, interdepartmental conflict, and duplication of effort to increases operational efficiency within the organization
The technique provides a higher return on campaign investment through collaboration
IMC strategy provides clarity and consistency to brand messages creating loyal customers who seek value in a particular product/service
The technique increases market position, sales, and growth through profitability and returns on investment. It finally helps in the wealth optimization
Overview on marketing mix
The dedicated marketing process is essential to deal with clients so that the marketing process doesn't go in the wrong way. Therefore, the marketing mix steps are essential to use the sets of 4 Ps of marketing. They include:
Segmentation:
In this step, we group a large number of customers on various segments. These segments include demographics. Psychographic economic socio-cultural aspects. After this division, it becomes easier to select which segments our marketing process will focus on. Marketers need to identify and analyze the characteristics of each segment. After that, they decide whether their product or service is suitable for their targeted group or not.
Targeting:
In this step, marketers try to identify the needs of their targeted customers. The most crucial part is to know how the product/service meets their demand. Moreover, marketers need to search for potential buyers who will be able to maintain a long-lasting relationship with them.
The job of the marketer in this step is to identify those group of consumers whose expectations of the product/service matches with the actual product/service of the company. In this way, if consumer expectation is equal to the product performance, they are satisfied with the company.
Positioning:
This is the process where marketers try to build up a brand image in the minds of customers. The brand image is only built up when the marketers differentiate their product/service from that of their competitors. Consumers will never be willing to buy your product/service unless they think there is some additional value in your product/service.
Therefore, marketers need to identify the strategies of their competitors as long as they are competing in the market. For example, Virgin Airways positions itself as part of a superior picture. Similarly, Wal-Mart has positioned itself as the go-to store for a large number of customers
What is the importance of the marketing mix?
The marketing mix is essential for the marketers because of the following reasons:
There are various elements of the marketing mix that influence and handle each other for greater business plan
If such plans are handled in the right way, it provides great success for the company
The marketing mix is very essential to build up customer relationship which enhances profitability
These strategies provide value for the product/service which builds up a brand image in the minds of customers. In this way, brand positioning helps in the retention of honest and loyal customers
How to use The 4ps of Marketing?
Use of marketing mix can help expand businesses in a better way by expanding the concepts associated with each of the core principles of 4 Ps. These are the steps to increase the effectiveness of 4 Ps:
1. Provide the best solution to the problem through identification:
If you are conducting B2B businesses, your customers are looking solution for a particular problem but not just a product and its features. Therefore, focusing on the benefits of delivering creates a change of mindset forcing us to look at the sales through the customer's eyes.
2. Consider the benefits of Awareness versus promotion:
Promotion of your brand helps customers in the development of positive experience. More than 70 % of customers should be in a buying cycle before they engage with the other salesperson. Marketers must focus on providing relevant information that builds up awareness of the newly introduced product which ultimately convinces customers to buy that product.
3. Consider the benefits of "Value" versus "Price":
In B2B businesses, sales are never made on the price of a product. Companies need to create value for their product/service so that they build up a relationship with their customers. Value is the relationship between what is charged as a cost and what customers expect and perceive from your product or service.
People are likely to pay higher services even in the commodity goods if they have better service or a quicker delivery. It is however very necessary to consider what problem we are solving and what cost did the problem had for businesses.
4. Consider 'Integration' versus 'Place':
Place traditionally looks at the location and channels where the customer makes purchases of the product/service. Marketers need to consider how the products will be packed and what information is very essential while packing the products.
They also need to consider the mode of delivery, how it will be installed or handed over to the customers, the warranty of the product, repair, and maintenance mechanism. Moreover, it also the responsibility of marketers to identify how the product/service will fit into the value chain.
Marketing has several tools which are being repeatedly used by various companies as per the need of customers. The product marketing manager guides such things. Some of the major marketing tools involve the following:
major marketing tools involve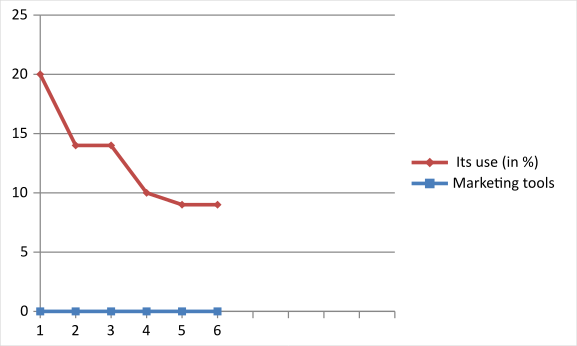 The above diagram shows the various marketing tools and their uses in percentage. Content marketing is the most widely used tool that covers 20 percent of usage. Artificial intelligence and machine learning consist of 14 percent usage. These are the most effective marketing tools that help in building brand loyalty and driving organic leads.
The content marketing strategy also involves social media marketing and search optimization. Above all, mobile marketing is also gaining popularity these days with 9 percent use.