Digital marketing refers to use of online platform to promote goods and services, getting in touch with customers or communicate any kind of message to your target group to meet the organizational goals.
Considering the fact that the internet users spend an average amount of 6 hours and 43 minutes in a day, there is an big space for companies to expose their target customers with their marketing messages through digital marketing.
Types of Digital Marketing
Website SEO: Search Engine Optimization (SEO) is the process of influencing visibility of you website so that it appears higher up in the search result. Some of the most popular search engine are Google, Bing, Yahoo, Baidu, DuckDuckGo, etc. 
Over 64% of marketers actively invest in search engine optimization. (HubSpot, 2020)
Organic SEO is about 5.66 times better than paid search ads. (New Media Campaigns, 2018)
It's possible to increase the number of monthly organic search views of old blog posts that have been optimized by an average of 106%. (HubSpot, 2018)
61% of marketers say improving SEO and growing their organic presence is their top inbound marketing priority. (HubSpot, 2018)
For organic SEO:
Content is the key. Customers will only visit or re-visit your site only when they find valuable content. They are also likely to refer your site to others when your content is unique, updated and attractive.
Use attractive keywords. Searchers use an average of four words when using a search engine. The meta description also need to be precise.
Build links and page rank. Google defines importance of a page based on referrals and back links.
Optimize your page.  Make the URL catchy. Make efforts into designing an attractive page focusing on title and description.
Focus on user experience. Make your site easy to access, navigate and quick to load from any device and from anywhere.
Social Media: There are 3.80 billion active users of social media today on the internet. According to Statistica, 70% of the US population is present in at least one social media platform.
According to MarketingSherpa, online adults aged 18-34 are most likely to follow a brand via social networking (95%). People are more likely to follow a brand when they see their close friend circle, relatives or influential personalities following a brand.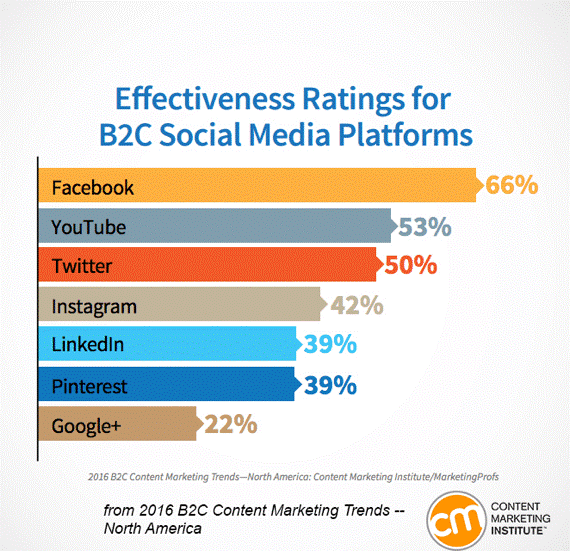 It is easier for a company to market their product or service to a target group through social media. The demographics and geographic information are readily available. Social media is one of the most effective platforms for influencing consumers.
Facebook is the #1 social channel used by marketers, with the highest return on investment. (HubSpot, 2020)
Instagram advertising has the possible reach of over 849 million users. (SocialMediaToday, 2020)
When it comes to delivering content and securing audience engagement, LinkedIn is the most effective social media platform. (LinkedIn, 2017)
80% of millennial Pinterest users say that the platform helps them decide what they should buy. (CoSchedule Blog, 2018)
Email Marketing:  Email marketing is the use of email to get in touch with your potential customers. This is one of the effective and sustainable ways to reach to your customers.
91% of shoppers want to hear from companies they do business with via email. (Sleeknote, 2019)
Roughly 80% of marketers have reported an increase in email engagement over the past 12 months. (HubSpot, 2020)
Message Personalization is the #1 tactic used by email marketers to increase engagement rates. (HubSpot, 2020)
Almost every report on email open rates concludes that mobile is responsible for at least 50% of all opens. (Campaign Monitor, 2018)
56% of brands using an emoji in their email subject line had a higher open rate than those that did not. (Forbes, 2017)
Mobile Marketing: Mobile internet has change how people live and work. According to Statista, mobile internet traffic accounts for 51% of total global online traffic. The global mobile online traffic is expected to increase in years to come.
48% of customers started searching for the product they bought on mobile first. (Google, 2018)
A positive mobile experience with a brand will make 89% of people more likely to recommend that brand. (Higher Visibility, 2019)
Average mobile conversion rates have gone up 64% in the last two years. (Higher Visibility, 2019)
57% of all mobile users will not recommend a business if their mobile website is poorly designed or unresponsive. (Sweor, 2017)
Taking this into account, marketers should make their website user friendly for one's accessing their site from mobile devise. A good website should be accessible to any devise and easy to navigate. App has become a preferred platform for mobile users. Investing on an app can be costly for small businesses. So, deciding to build an app depends on the size of your business and necessity according to the nature of your business.
Content Marketing: Content marketing is providing written, visual, audio and any other creative content that is relatable or valuable to the users. The content can be made available for free or with a paywall.  
Content marketing gets three times more leads than paid search advertising. (Content Marketing Institute, 2017)
55% of marketers say blog content creation is their top inbound marketing priority. (HubSpot, 2018)
Over ¾ of internet users say they read blogs regularly. (Quoracreative, 2019)
Video is the #1 form of media used in content strategy, overtaking blogs and infographics. (HubSpot, 2020)
LinkedIn is the most effective social media platform for delivering content and securing audience engagement. (LinkedIn, 2017)