WHAT IS ABSENCE MANAGEMENT?
Everybody has their issues. Some have medical issues. Some have family problems. Also, accidents occur frequently. Due to this, people cannot give their 100% time to their work. It is impossible to make 0 absent records. But a company can reduce it.
Lowering the absent rates of employees is absence management. Plans and policies help in absence management. It is important to discuss the policies with managers and employees. Then the management can be effective.
Attendance management is another term for absence management. Different companies use different terms. Attendance management is for reflecting optimism.
CAUSES OF ABSENTEEISM
The causes vary from person to person. The major cause of absenteeism is a short-term illness. (Source: CIPD Absence Management Study)
Few causes are:
Minor illness
Stress
Accidents
Family duties
Mental health
The graph below shows the main causes of short-term illness. It is according to the CIPD absent management study.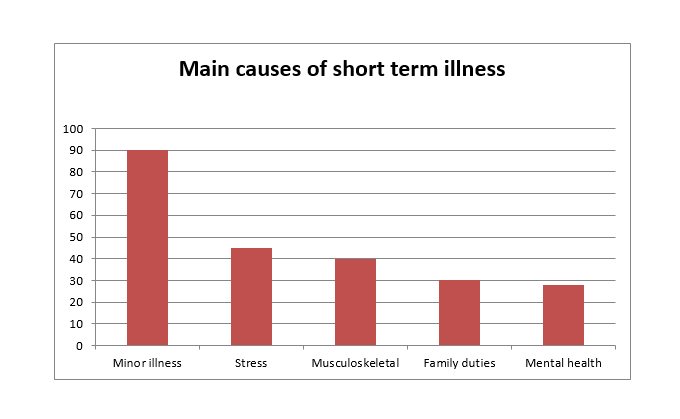 WAYS TO IMPROVE ABSENCE MANAGEMENT
Absence management is everywhere. It is important for every company. Every country uses absence management.
Few ways to improve absence management are:
Absence management software
Install the correct software. It makes management easier. Integrate the software with other systems. This gives effective results.
Absence management software helps to reduce employees' cost of absence. It increases the productivity. Without it, a company can be under threat.
The software can measure and track absence. It can also predict absence. It is easy to use. From this, a company can quickly find replacements. It reduces the risks. The loss decreases too.
Right software removes errors. Many things are possible. For example:
Effective communication on absence requests
Check that the employee is not taking more off-time
Provide accurate payment for absentees
Reduce the risks
Provide insights on replacements of employees
The software will provide lots of data. You can see the patterns. It shows you the trend of absent records. Use the data. Then take action accordingly.
Focus on the work environment
The work environment plays a vital role in the absence of employees. Good environment attracts employees. Bad environment repels them. Employees make fake excuses if they don't like the environment.
So focus on the work environment. Make it as friendly as possible. This recuses absence.
Give employees flexible hours. Allow them to choose the shifts. They can balance personal and work life. The work becomes better.
85% of workers believe flexibility makes them more productive. It is true. Flexibility improves production. It saves time and cost.
The work should have a strong purpose. Assign meaningful tasks. Tasks should improve the quality and skills of the employees. Then they are motivated to do it.
The graph below shows the average number of working days lost. The reason mainly is a short-term illness. It shows the data from many countries.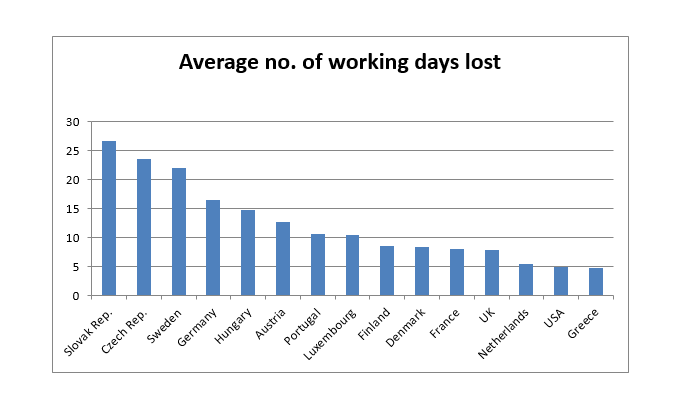 As shown in the graph above, the Slovak Republic lost the highest number of days. Similarly, Greece lost the least.
PROS OF ABSENCE MANAGEMENT
Absence management helps to allocate employees efficiently. The HR management becomes easy.
Absent or late employees can increase the cost. For example: starting the business late. So absence management avoids such cases. This reduces the cost.
When one employee is absent, other should not do his part. This is not fair. So absence management removes such cases too. It makes the work fair.
CONS OF ABSENCE MANAGEMENT
Employees don't want to be questioned. Nagging about absence can irritate them. They feel a lack of trust. This demotivates them too.
Flexibility is very important. Absence management reduces flexibility.
Absence management requires time. It needs skilled employees. Then only it can be effective. This is a bit hard. So there is difficulty to enforce it.