SWOT Analysis
As it is said that change is the only constant thing in the world, similarly, a business exists in an ever changing environment. A business deals with a number of stakeholders and competitors in its lifetime. The decisions and behaviors of these stakeholders and competitors have heavy influence on business's survival and growth. The dynamic environment that it exists in poses numerous uncertainties.
Therefore, it is essential for a business to know its strategic position in order to avert uncertainties and grab opportunities. There are various tools for a business to conduct analysis on its environment. One of the most widely used and an effective technique is SWOT Analysis.
What is SWOT Analysis?
SWOT stands for Strengths, Weaknesses, Opportunities and Threats and hence, SWOT Analysis is an assessment of these aspects of your business in a certain period of time.
The strengths and weakness are determined by the business's own internal environment whereas, opportunities and threats are influenced by external environment.
SWOT analysis offers you a comprehensive idea on what the company's strengths and weaknesses are to deal with environmental uncertainties.
Internal Environment
A company's internal environment is comprised of elements that the company has the power to influence directly. These elements are present inside the company. It includes the company's plans and policies, human resources, corporate culture, financial resources, physical resources, organization's structure and other internal factors.
Internal factors have a direct impact on the firm. The blend of these factors determine the strength and weaknesses of a company. These factors are within the premise of company's ability of influence.
External Environment
External environment of a business includes the customers, suppliers, competitors, political situation, technological changes, etc. These factors exist outside the business's ability to control.
External factors can come in the form of opportunities or threats to the business. To deal with external factors, you should either leverage your strengths or improve the weaknesses.
Who Should and When to Use SWOT Analysis?
SWOT analysis is applicable to organizations of any size and type. Companies that want to be on top of their game, bring innovation, undergo robust improvement and seek for long term survival in the industry should definitely develop an expertise of this tool.
Regarding when to use this tool, SWOT analysis is not to be used once in a lifetime of the organization. Rather, it should be practiced whenever the business environment faces changes or when the organization itself is in forefront of taking a crucial decision.
SWOT analysis should be integrated during early stage of planning and preferably in following situations:
Emergence of new technology in the market
Changes in local and global economy
Change in government policy and regulations
Deciding on new product design, approach, etc.
Penetrating new market
Change in customer preferences
How to Conduct SWOT Analysis?
SWOT analysis looks at four (strength, weakness, opportunities and threats) aspects to determine a business's strategic plan.
First of all, determine the objectives of your business. SWOT analysis needs to be periodically done or needs to be changed according to the objective.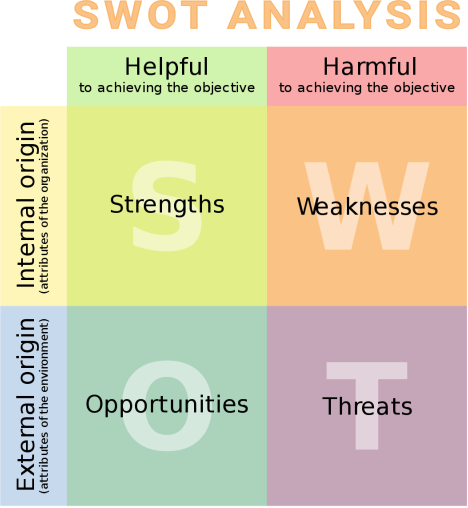 Strength
Strengths are company's specialized competency. It includes company's critical success factors. These are the aspects of your business that give you a competitive advantage.
Look out for the factors that your company does exceptionally well. Strength can be in the form of knowledge, price, process, product, technology, skill set and other tangible and intangible assets.
For example: New technology that significantly reduces your cost and can give you cost leadership in the market is your strength.
Answers to the following questions will help you successfully define the strengths of your business:
What do we do exceptionally well?
What is your unique selling proposition (USP)?
What advantages do we have?
What valuable assets and resources do we have?
What do members/customers identify as our strengths?
Recognizing these assets will help you continue on at high level and you will need to find ways to leverage and build upon these strengths to grow your business.
Use the strengths of your business to grab new opportunities or minimize threats in times of uncertainty.
Weakness
Weaknesses are the aspects of your business that you could improve on. They are the factors that put you at disadvantage when comparing with your competitors.
It is significant to identify what your weaknesses are and take actions to lessen their impact before they hurt your business.
Weaknesses can often be limitations in resources knowledge, work process and skills.
For example: Absence of aftersales service in your company while other competitors providing the same service in the market is your weakness.
Identify your weaknesses by finding answers to:
What could we do better?
What are we criticized for or receive complains about?
Where are we vulnerable?
In what aspects are our competitors better than us?
Are there gaps on our team?
The right way to deal with your weaknesses is to improve weaknesses by taking advantage of opportunities. Furthermore, work on your weaknesses to overcome threats.
Opportunities
Opportunities are the result of external factors which can bring favorable growth of your business. These opportunities are the result of factors such as emerging trends, areas untapped by competitors, changes in government regulations, etc.
Identify market opportunities by finding out:
Are there emerging trends on which we can capitalize?
Are there upcoming events that your company may be able to take advantage of to grow your business?
In what areas are your competitors failing to cater to customer's needs?
Always consider your strength and weaknesses when assessing market opportunities.
For instance, growing number of internet users is an opportunity for online businesses to tap into potential customers. In this case, make use of your online presence, which the business's strength, to generate more leads.
Threats
Threats are the external factor that can cause loss to your business. The damage can range from slowing down of your business to a threat to survival of your business. So, you always need to be on a look out for external factors like your customer's preferences, competitors, market fluctuations, change in government regulation, negative publicity, etc.
Figure out:
Are weaknesses likely to make us critically vulnerable?
What external roadblocks exist that block our progress?
Is there significant change coming in our industry?
Are economic conditions affecting our financial viability?
By identifying these threats find ways to eliminate them or lessen their impact by using your strengths or improving on your weaknesses.
Importance of Conducting SWOT Analysis
Take Effective Decision: SWOT analysis helps your business make informed decision. By identifying your strengths and weaknesses, you are more likely to take decision that yields benefits for your business.



Grab Opportunities: You can invest company's resources in right direction to grab market opportunities. SWOT analysis prepares your company to grab opportunities in the time when it appears.



Become Learning Organization: SWOT analysis turns your company into a learning organization. A learning organization constantly works on improving its weaknesses to transform itself according to time. This way your company is consistently updating knowledge base, adapting new technologies, catering to changing needs of customers and so on. This makes your organization a competitive player in the business environment.



Avoid Waste of Resources: The hit and trial method is tedious and wastes your time and resources. SWOT analysis makes you aware of what you are capable or not so that you only take the fruitful steps.
Business Sustainability: In a dynamic business environment a business comes across many changes that sometimes poses threat to business's survival. A business constantly needs to level up their game to avoid waves of such threats.
Low Cost: High level officials with in-depth knowledge of all aspects of business can conveniently perform this analysis. It does not require any expensive software or experts.
Competitive Edge: By constantly innovating, improving on your weakness, and making the most of opportunities, you gain a competitive edge against your competitors. Eventually, your company gains a strong market position.
Limitations of SWOT Analysis
SWOT analysis is an easy, informative and inexpensive method of strategic planning. However, the tool can appear vague. It lacks precision in regards to selecting the best strategic option.
It does not show importance and urgency of external issues. Hence, the organization cannot visualize the occurrence of an event and its impact.
Furthermore, the tool offers multiple options but does not determine the best one. For instance, it does not suggest weather to take advantage of organization's threat or improve its weaknesses in case of a threat.
To avoid these limitations of SWOT analysis, organizations should additionally use tools such as PESTLE Analysis, TOWS Matrix, Porter's Five Forces and so on.
Conclusion
SWOT Analysis in managing an organization is as important as ABCDs in learning English language. In an ever changing business environment, it is important for an aspiring business to be aware about its strength and weaknesses to take advantage of opportunities to avoid threats.
Using SWOT tool turns your organization into a learning organization. This way you are constantly innovating and moving along and often ahead of industry trends. Sticking to this methods certainly ensure long term survival as well as success of your company amongst competitors and constant environmental changes.