MARKETING STRATEGIES
INTRODUCTION
In simple words, marketing strategies are plan made for business to obtain its ultimate goals, even in the long run. Marketing strategies involves various high elements of a company such as data on target customers, brand messaging, and company's value proposition and so on. It is a far sighted approach which can assist in reaching towards the potential customers and retaining them by providing the best service as possible.
Competition is seen and felt everywhere, no matter which sector you are involved in. In this twenty first century, being unique and standing out from others is no longer a choice but necessity. And for that, marketing strategies are in hype nowadays.
SOME EFFECTIVE MARKETING STRATEGIES
People differ from each other. It is true that different people have different opinions and due to this different people prefer different kinds of strategies. Here are some effective marketing strategies that anyone can adopt and should not miss.
1. Target your audience for Marketing Strategies
Being jack of all and master of none is not a very good idea. A marketer should not run after each and every kind of people in this world. People might think that if they go after everyone, they might get more customers, more sales and profit but that does not actually happen. Instead, target a particular group of people and know about them in depth. This way you can focus more and work becomes effective.
It is not at all a wise strategy to advertise and not know if the advertisement did well or not. Many marketers think that their job is to work on advertisement, advertise and that's it. They don't feel the necessity of keeping records of the aftermath, but doing so is very important. Measuring and keeping track of the marketing will provide the mistakes that you can work on, the strong points that you need to continue and the gaps you need to fill.
3. Know when to advertise
Advertising throughout the year with equal efforts can help you to flow the name of your brand or service everywhere. But this cannot be said as a smart strategy, considering the expenses and cost. So, it is necessary for the marketers to know the time when their advertisements are the most effective. For example there are many businesses which sell seasonal products or provide seasonal services. So, for them, rather than spending lot of money on advertising whole year, it is better to advertise during or a bit ahead of the season to make people aware and save the cost.
4. Maintain good brand reputation
We have noticed that many people recognize the name of the brands just by looking at the color, theme or listening to the jingle of the advertisement. If your customers feel the same thing about your marketing, then you are doing well, or else you need to work on your brand as well. Using familiar and relatable contents and not changing the themes often can work well.
5. Use available resources well
Focusing on smart work rather than hard work is always a good marketing strategy. You do not need to worry if you don't have all the fancy and advanced resources. One can always use available resources in a better way to make the marketing effective. Using services like Google AdWords, Bing Ads and even a Facebook ad campaign, when you are in shortage of money or time is a good way of utilizing resources.
6. Choose the right places
Spending time in knowing your customers is always an investment that can bring great returns. Rather than making assumptions about your customer, you need to collect facts and actual data. There are many places where marketing can be done such as social media, televisions, radio, magazines, and newspapers and so on. So either on the basis of survey on potential customers or from the data obtained from verified source, marketers can select a right place to advertise for better result.
Adding to this, there are other marketing strategies that many top companies are adopting. According to Infusionsoft Small Business Market Research Sales and Marketing Report, the following chart was published which shows the most effective marketing strategies.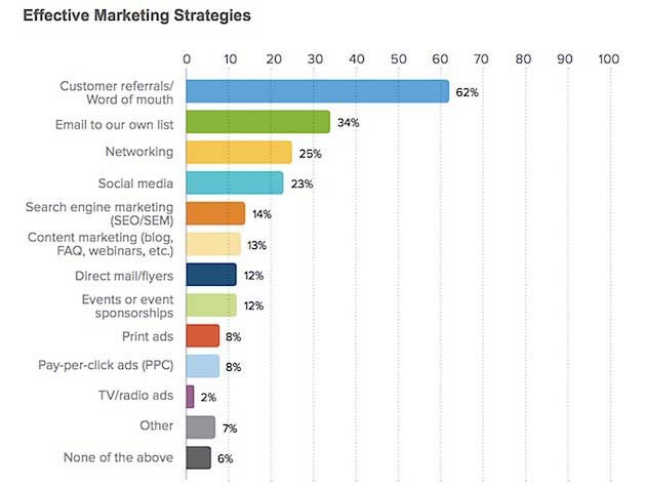 As shown above, customer referrals or word of mouth is the most effective marketing strategy which has the highest percentage i.e. 62 percent and we cannot deny it either. Word of mouth plays a very important role in influencing people which is a vital component of marketing. Similarly, other effective marketing strategies are email, networking, social media, search engine marketing, content marketing, direct mail, events or event sponsorships, print ads, pay per click ads, TV or radio ads and so on.
TYPES OF MARKETING STRATEGIES
1. Social media marketing Strategies
Marketing is all about reaching towards your potential and targeted customers. When it comes to reaching towards people, social media can be said as one of the best platforms as more than 2.8 billion people use it. Moreover, not only in numbers, but social media is used by people from all age group, be it children or old, and that too in a regular basis.
When people hear social media, the first thing that comes to their mind is Facebook. No doubt that Facebook is one of the biggest social medias but there are a lot of other options too such as Instagram, twitter, LinkedIn, snapchat, WhatsApp, viber and so on. So there is no need to limit your marketing in only one site.
There are lots of perks of using social media to advertise your product or service. First thing, it is easy to use. People will definitely not learn to use an app just to see your ad so you need to be careful if the strategy is easily approachable or not. Also, it does not cost much.
2. Search engine optimization
Search engine optimization (SEO) or search engine marketing (SMM) is another important type of marketing strategy. Your marketing would be very fruitful if you appeared on the top of the search page. So this is a type worth considering. SEO will assist in making your business visible to people who are in search of the type of product or service that you offer. It builds the trust and increases the sales.
However, there are few challenges of SEO that you need to be aware of. SEO is a long term strategy and it is not instantaneous. Bringing the name of your company on top of the page takes a long time. Also, there is huge competition in this strategy. You can check it right now – if you search for any kind of company offering certain service or product, you will get more than ten thousand results in few seconds. Now that is a huge competition.
3. Pay per click
In simple words, pay per click (PPC) is a type of marketing strategy where the marketer pays each time a person clicks on his/her ad. It is an expensive type but the cost is worth the returns. PPC is highly promoted by large companies such as Google, Yahoo and Bing, and these are the trusted companies by people so you do not have to worry a lot in placing your money in this strategy. As mentioned earlier, it is a bit expensive, so marketers should be careful about the position and time frame of the advertisements they are placing. Also, an important thing to know about PPC is that the prices can fluctuate in short span of time.
There are lots of advantages of using this strategy such as immediate visibility, being able to track the ads, retargeting and local as well as global reach.
4. Email marketing
Email marketing is another most effective type of marketing strategy. It has been growing a lot nowadays. Monitoring is very easy with email marketing. We can keep track of emails like which ones are received, which ones are not working, which ones are effective and so on. Also, it saves a lot of time. The mails can be sent to millions of people in just few minutes. It is also affordable at the same time and a marketer does not even have to put a lot of effort in this type of marketing strategy. It is easy to use and very approachable by people everywhere. Also, if used in a proper way, email marketing can also help the brand grow.
5. Content marketing
Content marketing is also an important and effective type of marketing strategies. It is very true that content marketing requires a lot of time, dedication and hard work, but still it has a lot of benefits too. Therefore, in spite of putting a lot of efforts in it compared to other strategies, content marketing is still growing.
Content marketing is considered to be very engaging. People read the articles and blogs which give them certain perspectives that change their thinking. Also, it builds the trust of people and makes the relationship between the company and customers stronger. Moreover, regular content marketing proves that the account is active.so, it also helps in getting the SEO.