Programmatic advertising- A need for strategic marketing
It has been forecasted that programmatic television advertising would reach 4.73 billion US$ by the end of 2020, representing 70.9 percent growth compared to the previous year
The advertising exists in a wide range of digital channels such as display, mobile, video and social and targets a larger number of potential customers for greater efficiency and increased transparency
What is programmatic advertising?
Programmatic advertising is a process to buy and optimize digital campaigns. In this advertising, marketers do not buy directly from publishers. This type of advertising is specially designed to replace human negotiation with Artificial Intelligence (AI) adoption.
The marketing is very effective to increase transparency among advertiser and the publisher. This can be done through real-time auctions where ads are bought at the same time as a visitor loads website. Such type of advertising exists in a wide range of digital channels like display, mobile, and videos. The drastic change in the marketing field has even transformed traditional offline channels into digitized ones.
Previously, programmatic was used by media agencies that had larger budgets in their hand. These days, the rapid rise of computer tools like Match2One gives power and authority even to the small brands. These tools provide the ability to compete with established brands in the market even without taking the help of middle-men.
The cost of the middle-men could be high in this process and there is a lot of human involvement. A lot of human involvement ultimately slows down the quicker decision making process. The easier tasks could even take longer time and companies are unable to achieve a competitive advantage.
Why one must use programmatic advertising?
Programmatic advertising has various advantages except faster reporting, quicker decision making, and endless data. This is the reason why marketers and advertisers have started buying their media this way.
Some of its benefits include the following:
1. Increased transparency and control
This marketing offers layers of transparency which is impossible in traditional marketing. Advertisers could distinctly see at what sites their advertisements are reaching and who is viewing their ads. It also helps to analyze the cost involved in this process. In this way, optimization and quick changes are able to take place in a much more efficient way.
2. Real-time measurement
Every marketer and advertiser wishes to report in real-time. This marketing helps to measure how creative any campaign is and its overall targeting as soon as the campaign is launched. On the other hand, in traditional advertisements like television, print ads, etc. marketers won't have to wait until the end of the campaign to get the results.
3. Greater efficiency
The ability to acknowledge how a campaign has been running throughout the entire session has increased the overall efficiency of digital marketing. Real-time measurement allows marketers to track the campaign and make adjustments and corrections accordingly.
4. Greater targeting capabilities
Advertisers can directly reach their ideal consumers for any given goal with programmatic advertising. Some examples are IP targeting (zoning on a specific IP address), contextual keyword, and geolocation (targeting geographical areas such as state, city, east coast, north coast, south coast, etc) These are all the important and widely used targeting that has given very good end-results.
5. Increased audience reach
The major advantage of this type of marketing is the potential reach of the audience. There are almost 3.5 billion people on the internet on average today. This is the reason why potential reach increases. It is better to narrow down potential reach to target consumers. As soon as a display advertisement is seen, advertisers can easily track how many impressions were served, who looked at it, where they were located, and much other related information.
Why is programmatic advertising important for medical practices?
Medical practices are simply wasting their marketing budget on various other platforms that do not provide targeting which is required to identify the potential prospects. Programmatic advertising, on the other hand, offers the ability for advertisers to reach out on advanced data so that they could offer their services to the most ideal patient. Programmatic advertising also adds behavioral targeting which focuses on the psychology of patients. Most of the programmatic advertising is shown in mobile apps which are very easily accessible to all the patients.
What are the various steps required to get started with programmatic advertising?
Programmatic advertising requires a sound strategy before starting the same as other digital advertising. Some of the strategies include:
1. Select software
The users need to sign up with the software that allows them to buy this type of program. Brands and agencies are allowed to by ads through self-service software. Some agencies also have their own proprietary programmatic tools so that they could buy ads to support their clients. Only one approach is essential to make much of the same ad inventory across many of the systems.
2. Establish your targeting
Targeting must be extremely detailed that vary as per which platform the organization depends. Marketers need to look through all possible targeting that the advertisement provides and make the best decision to build layers of targeting. However, the addition of more targeting data makes it more expensive to reach the audience. Also, building too narrow targets could make the audience smaller than the user would like.
3. Determine ad format
In this type of advertising, user can buy many ad types, including standard display ads, video ads, and native ads. It is very important to establish a clear objective for ads while making this determination. Designing the format of an ad provides the vision for your program and it shapes your goal or objectives. The format of the ads largely depends on whom you are targeting and how you are serving them. For example: If the company tries to drive site traffic, video ads are not recognized as the best format. Video ads are only suitable to increase viewers.
4. Establish a measurement plan
It is very important to measure the performance and determine the result. Marketers need to be very careful about what they want to measure aside from the standard digital advertising metrics. For example, Programmatic advertising can also measure a number of people who physically walk through the door. Users need to understand that the amount of money they have been spending is fruitful or not to meet the campaign requirements. This is something which is really needed to be tracked for advanced advertising which involves data and analytics.
What are some of the challenges of programmatic advertising?
Programmatic advertising also has some challenges or disadvantages, unlike other marketing. However, there are very few disadvantages to this marketing. They include:
1. Ad fraud
This is an issue across all online display advertising. The major target of entire online marketing is creating impressions for the customers. Increasing the number of viewers, likes, and subscribers are the most challenging task. Ad fraud is when these clicks and impressions do not come from a human but rather comes from a bot. This is the biggest problem faced by programmatic advertising these days. This result for the huge chunk of advertising budget separated for better outcomes, into no result at all. Ad fraud is a bigger business that has the share of lots of top people. On the other hand, the business to prevent this fraud is even greater. For example, over a decade Google itself had been working so hard to battle bots.
2. Lack of Knowledge
The emergence of new technology always creates challenges for the users on how to use it effectively to optimize the output. Nearly 50% of the people who use this advertising do not think they have proper ideas to use it. The number of different platforms or varieties of options available to the marketers has created even more difficulties to analyze the suitability of the platform for their company. If employees have no background in programmatic language, they need to learn its every segment and mechanism on how it works. Therefore, employees need training and guidance before starting the programmatic advertising.
3. Inventory quality
Marketers are spending heavy amount of their budget on programmatic advertising. However, this advertising shows no signs of hitting the targeted goal any time soon. It has already been mentioned that almost half of the population who have been using this advertising tool do not understand how it works. Therefore, huge cross-sections of marketers are unable to guarantee that their money is buying the best possible inventory.
Television advertising spending in the United States from the year 2015 to 2021:
| | |
| --- | --- |
| Year | Amount spend (in billion US$) |
| 2015 | 0.31 |
| 2016 | 0.64 |
| 2017 | 1.09 |
| 2018 | 1.75 |
| 2019 | 2.77 |
| 2020 | 4.73 |
| 2021 | 6.69 |
Television advertising spending 2015 to 2021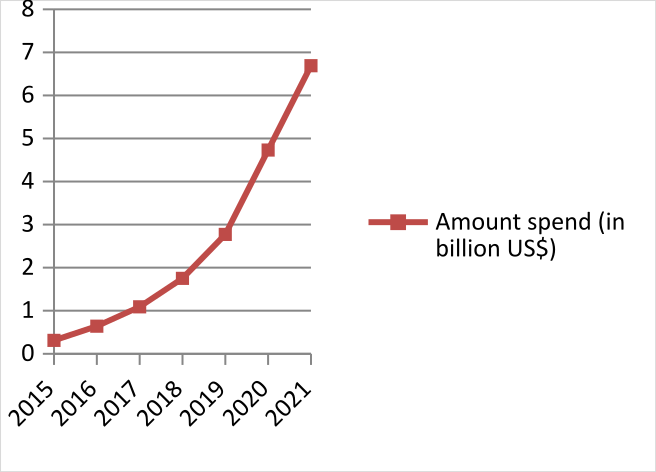 The above figure shows the graphical presentation of the amount spends in programmatic television advertising in the United States from the year 2015 to 2021. In the year 2015, the amount of spend is just 0.31 billion US$ while the graph is in the rising phase until it comes to the year 2019. In the year 2019, the amount of spend is 2.77 billion US$. Here, we can see the rise of the amount by 2.46 billion US$ in the 4 years of the time period. However, it has been expected that in the year 2020 and 2021 the amount will reach 4.73 and 6.69 billion US$ respectively.