When starting an online business, you need a set of assets and investments. Among many of those resources is a space to store the products you sell; an inventory. Dropshipping, an emerging supply chain management method, solves storage space constraints for online retailers.
Dropshipping is a supply chain management method in which the retailer does not keep the stocks of goods that he/she displays for sale. Instead, the retailer transfers the customer's order details and shipment details to a third party manufacturer or wholesaler. The manufacturer or the wholesaler then ships the goods directly to the customer.
This way the retailer can earn a profit on the difference between the wholesale price and retail price. In addition to this, the retailer avoids the challenges of managing inventory.
How Does Dropshipping Model Work?
Dropshipping is not as complex as it sounds. It is quite a simple process. You just need to have a computer, an online store, and good marketing strategies and skills to sell your products online.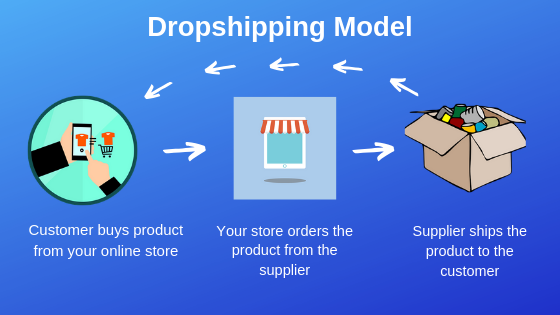 Step 1: Display the list of products you want to sell through your online store. Also, mention the price of the product.
Step 2: A customer orders a product from your online store at the price you have set.
Step 3: Place the order to the manufacturer or wholesaler at their wholesale price. Pass on the order and shipping details to your wholesaler.
Step 4: The wholesaler will have it shipped to the customer from the details you have provided.
For instance, a customer visits your online store and places an order for a product for sale at $12. Then, you pay the wholesale price of $10 to your wholesaler and provide order details. The wholesaler will deliver the product to your customer.
In between this transaction, you make a profit of $2 while also not holding any inventory.
Key Dropshipping Statistics
84% of eCommerce retailers cite the initial stages of finding and securing a good supplier to be the biggest obstacle to getting their business going. (3dcart)
The size of drop shipping was estimated at 111.28 billion dollars in 2018 and should record a CAGR of around 29% from 2020 to 2025. (Market Data Forecast, 2020)
The targeted traffic should convert at 2.5%, or better. (Drop Ship Lifestyle)
66% of online shoppers will buy from the competition if they offer more shipping options. (Drop Ship Lifestyle)
Advantages of Dropshipping
Easy to Start: When starting e-commerce with the dropshipping model, retailers don't have to invest in inventory. The product gets ordered to wholesalers only after a customer makes a purchase online
No Inventory Cost: There is no hassle of inventory management, unlike traditional retail business. There are no stocks at all. So, there is no risk of holding obsolete stocks. You don't have to pay to maintain a warehouse.
Workplace Flexibility: The business can be operated from just about anywhere with an internet connection. You can sell to any location across the world.
Wide Sourcing Options: There is a massive range of wholesalers that a retailer can source a product from. The advantage is, you don't need to have the products with yourself.
Disadvantages of Dropshipping
Poor Customer Service: Customer service is one of the most important parts of a business. But in the dropshipping model, retailers don't have control over the delivery of products. The service is not standardized. Sometimes, the supplier's error while shipping can make a bad impression of your business.
No Control over Level of Inventory: While retailers don't have to maintain an inventory, they don't have control over suppliers' inventory either. When suppliers run out of stock, you have to bear the risk equally.
Limited Customization and Branding: The retailers have no flexibility in the design of a product. You sell what the suppliers sell.
Low Margins: One of the biggest disadvantages of dropshipping is the low margins on products. Dropshipping is a highly competitive market. If you want yo make more money, you need to sell more products.
Conclusion
Dropshipping is a profitable supply change management method for e-commerce entrepreneurs. It is an emerging business concept as internet users are budding. To flourish in this business, the key is to have a good understanding of marketing online and having reliable suppliers.