Supply Chain Management- Overview, Trends & Challenges
According to Business Insider, the use of block chain is expected to rise in Supply Chain Management. Market value of blockchain is expected to grow at a compound annual growth rate (CAGR) of 49% from $41 million in 2017 to $667 million in 2024
The emerging trends in SUPPLY CHAIN MANAGEMENT is helping businesses to overcome their various problems related to inventory and cost management as well as customer satisfaction
SUPPLY CHAIN MANAGEMENT however has some limitations that creates challenges for businesses to increase its user-friendly environment
Supply Chain Management covers larger area from production to product development to the information systems needed to direct these undertakings. Supply Chain Management has become important tool for companies to achieve competitive advantage by cutting excess costs and delivering products to the consumers faster.
Supply chain management helps businesses by keeping tighter control of internal inventories. The system keeps an eye on internal production, distribution, sales and the inventories of company vendors.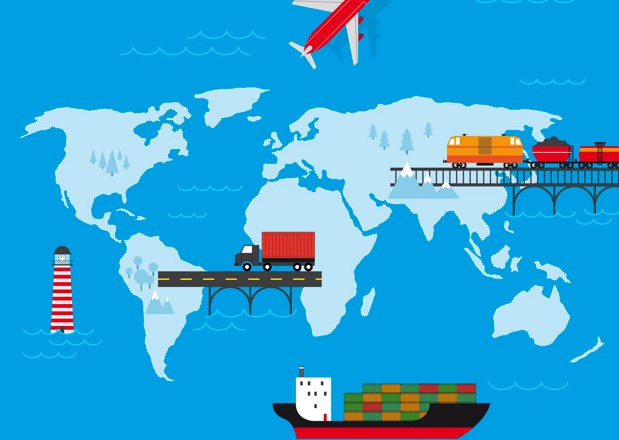 Supply chain management provides a general idea that nearly every product that comes to the market has efforts of various organizations that make up a supply chain, increasing the value at each production stage. The system consists of 5 parts:
The plan or strategy
The source of raw materials or services
Manufacturing (focused on productivity and efficiency)
Delivery and logistics
The return system for defective and unwanted products
Supply Chain manager is required to conduct these systems effectively and efficiently to improve productivity and quality of operations. He/she tries to minimize shortages and keep costs down. Hence, proper SUPPLY CHAIN MANAGEMENT is essential to increase revenue, decrease costs and impact a company's bottom line.
The emerging technologies have established various market trends like Artificial Intelligence (AI), block chain and automation. These trends are being integrated into the digital supply network. We will be discussing about them one by one:
Artificial Intelligence: AI plays an important role in warehousing goods, product delivery and supply chain operations. AI can be used to predict which products are more cost-efficient to stock in a certain warehouse. However, demographic as well as behavioral information is equally important to determine what and how will be stocked. According to a research conducted by ReportLinker, the market value of AI in supply chain is expected to reach $10.1 billion by 2025 from $730.6 million in 2018, growing at a CAGR of 45.55%.
Block chain: It is an invaluable asset for businesses which helps in distributing the process of verification from financial transactions to logging information.The system elevates the level of trust where everyone on the chain verify the data being input. It also ensures that this data cannot be changed once it is committed to the digital ledger. Block chain not only provides permanent record of a product journey but also provides ledger information to reveal weaknesses and help organizations take decisions accordingly. According to Marketwatch, the market value of blockchain in supply chain is expected to reach $9,852.91 million by 2025, growing at a CAGR of 80.2% from 2018 to 2025.
The digital supply chain model: This technology allows personnel to know what is happening and where in near-real time. It provides a comprehensive view of all parts of the supply chain through location intelligence. The system is made up of many different new technologies such as : AI, automated vehicles and block chain which give the power of geographic context. This allows the digital supply network to function.
Delivery automation: Customers these days need fast and flexible deliveries which has become a serious problem for companies. On top of that customers expect same cost for the products that have same-day delivery. Therefore, using delivery automation smaller and last-mile distribution centers are being built. Similarly, forward thinking businesses are using this technology to meet consumer demands along with low overhead costs. The work of delivering packages can be done by a combination of traditional shipping as well as autonomous vehicles. According to globalnewswire, The Global Logistics Automation Market is expected to reach USD 120.08 Billion by 2026. Mordorintelligence reported that the logistics automation market was valued at USD 49.2 billion in 2018, and is expected to reach USD 96.2 billion by 2024, growing at a CAGR of 12.1%.
Businesses have been facing various challenges while dealing with SUPPLY CHAIN MANAGEMENT. According to Statista, a survey taken in 2018 reveals the following top 5 major challenges along with the percentage of respondents.
| | |
| --- | --- |
| Challenges | % of respondents |
| Visibility | 21.1 |
| Fluctuating customer demand | 19.7 |
| Inventory management | 13.2 |
| Coordinating across multiple sales channels | 11.8 |
| Keeping pace with technology | 6.6 |