Software as a Service (SaaS)
Software as a Service (Saas) is a software licensing and delivery model in which service providers create, develop, host and update computer software from one central location and allow users to connect to and use cloud-based applications over the internet.
The software is licensed on a subscription basis and is hosted by service provider's server rather than on servers located in-house.
SaaS is also referred to as on-demand software or cloud based software.
With SaaS, you don't need to set up your own servers, install and maintain IT infrastructure. Rather you only need to subscribe and to software packages and utilize it over the internet.
The popularity of SaaS is rapidly growing in businesses as well as our daily lives. Most of us might have used some of SaaS applications without even realizing it.
To better understand the concept, G Suite is an example of SaaS. G Suite is a collection of cloud computing software and products by Google Cloud that allows access to Gmail, Calendar, Google Docs, Chat, Meet, Sheet, Slides, etc. on the internet.
SaaS is beginning to widely influence how organizations operate nowadays. Based on a survey conducted by BetterCloud, 73% of organizations who responded said that at least 80% of their apps will be SaaS by 2020.
Gartner Inc. estimates that by 2021, revenue from the global SaaS market will reach $113.1 billion.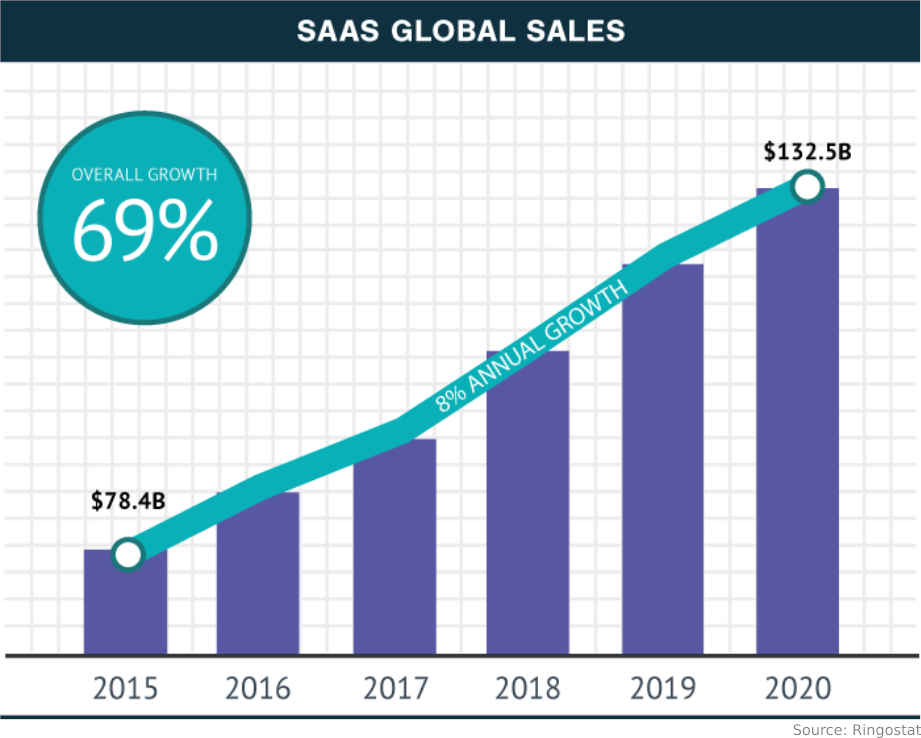 How Software as a Service Works
Clients need to access SaaS through web browsers or API over the internet. You only need to sign-up to SaaS applications. SaaS vendors use a subscription (often per user, per month) pricing scheme.
Companies that deliver SaaS are sometimes referred to as application service providers (ASPs).
The ASPs provide you a complete software or an application in the form of service. In the background, the providers set up large scale servers, look after security, design of applications, installations and maintenance. In addition, the ASPs automatically upgrade the application. You just consume the end product and pay for what you use.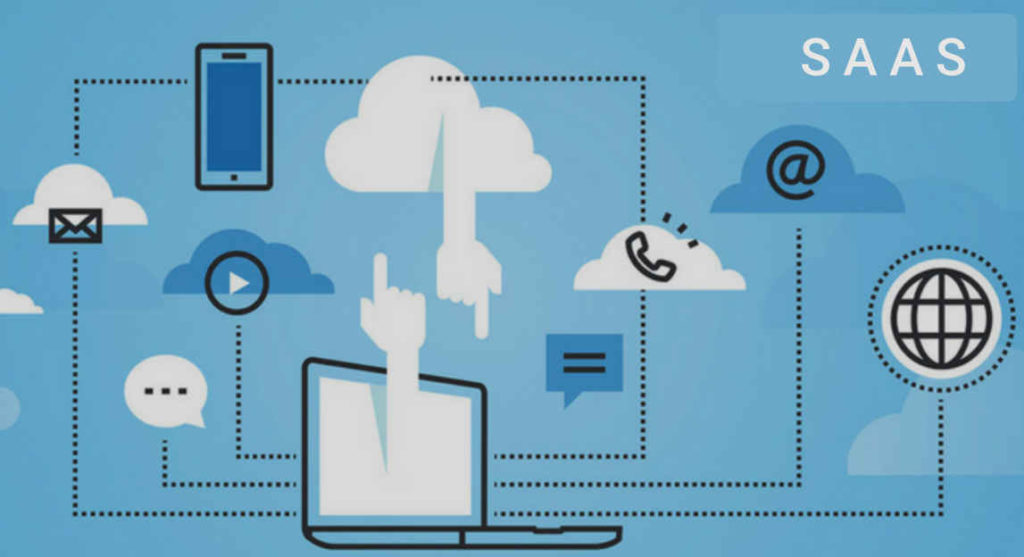 SaaS is characterized by:
On-demand Service: You use it when you need it.
Network Access: Using internet as a medium to use the services.
Shared Resources: Computing resources are shared with a number of users.
Scalability: Allows elasticity of resources.
Top 10 SaaS Companies
HubSpot
Salesforce
Google
Microsoft
Shopify
Survey Monkey
Adobe
Slack
Zoom
FutureFuel
SaaS Statistics
Given the cost benefit, security and accessibility of SaaS applications, the model has bright growth prospects. Some important statistics of SaaS industry as given in 99 Firms are:
73% of organizations indicated nearly all their apps will be SaaS by 2021.
93% of CIOs are adopting or planning to adopt cloud SaaS.
By moving to the cloud, you will see a 15% reduction in IT spending and a 16.7% reduction in IT maintenance costs.
The corporate mobile market within SaaS is expected to be $7.4 billion by 2021.
86% of end users said SaaS helps them be more productive and successful that desktop programs
Application of SaaS in Organizations
Accounting
SaaS accounting software provide complete accounting architecture and accounting data maintenance. The ASPs provide strong security assurance for your accounting data.
ASP like Apprenda provide a secure enterprise level application. These kinds of providers offer high-level security and reduce the uploading and analysis time drastically. With accounting software from ASPs like Apperenda, your company can improvise on your accounting management system.
Human Resource Management System
According to Bython Media, evolving business requirements drive solution innovation to attract and retain talent. SaaS HR management is rapidly becoming employee-centric and embracing new requirements in performance, learning, talent acquisition, and employee engagement. For digital-age companies, a comprehensive HR system provides an opportunity to create higher levels of employee engagement, boosted retention, productivity, and customer outcomes.
For big companies and multinational companies SaaS HR management can help in maintaining comprehensive and sophisticated HR data with more talent management capabilities and global features.
Inventory Management
Cloud based inventory management has a number of benefits for a company. Cloud based inventory management allows access to inventory data from anywhere and at any time. This helps in maintaining optimum level of inventory stock, track global supply chain, data security, and even integrated inventory management between supplier and customer.
Fishbowl points out some of the significant benefits of using inventory management software on SaaS:
Access to inventory data anytime
Affordability compared to traditional software
Seamless software updates
Customization and integrations.
Customer Relationship Management
The main objective of customer relationship management (CRM) is to have an organized information of your customers to gain effective digital marketing and sales insights or maintain a good relationship with your customers.
SaaS CRM makes way for a shared customer database, integrate your business system and enhanced sales team collaboration. Any employee has reach to updated customer database.
This enables your company to deal with customer's issues or guiding customer for purchase in an accurate manner. Which in turn yield a good relationship with customers. Good customer relationship is a sign of a healthy company.
Storage
Cloud computing is one of the most popular usage of SaaS. Cloud based storage allows users to access, share and deliver computer resources over the internet. The cloud computing can be used to save large volume of data safely.
With cloud computing, you won't need to invest on huge external hard drive and pay rent for the space.
Advantages of Using SaaS in Business
Concentration on Core Business
In conventional computer software, your organization needs to purchase, get license, install, design, maintain, upgrade and ensure security of your data. This method occupies significant focus from your limited resources. Many companies lag behind or fail from reaching their full potential because of this reason.
Whereas, SaaS application can be simply utilized by paying certain subscription fee to your desired vendor. In doing so, you consume the end service for a particular task. The job of building a software, maintenance, upgrade, security and all other activities is taken care of by the vendor.
Using SaaS shifts numerous burdens from your company to the vendor company. The resources, effort and time spent on building in-house software can be directed to your core business competency.
In a report by Vanson Bourne in which they interviewed 460 senior decision makers on the impact of moving their business to cloud, the result indicated positive growth of 19.63% if you move to cloud.
Cost Saving
When building software in-house, you incur costs in buying the software, installation, maintenance, upgrade, security, IT experts and other expenses. At the end of it all, the money spent on in-house software is higher than while using SaaS applications.
SaaS vendors provide you wide variety of subscription options such as per user, per month or per year.
A study conducted by Computer Economics found that companies that have migrated the majority of their systems to the cloud save "on average more than 20% in IT spending as a percentage of revenue". The study also found that organizations who have moved to the cloud invested their savings in innovation, and saw many strategic benefits from it.
Frees Up Time
Software for inventory, accounting, HR, CRM and many more can be accessed in minutes over the internet. All of this without the hassle of building and maintaining a software in your company. This lets you focus on your core business.
Improved Collaboration Capabilities
Your team can access organization's database anytime over the internet. This lets them add value to the work or stay up-to-date all the time.
There is optimized opportunities when working on creating new product/service. You company can even collaborate with suppler to maintain supply chain and inventory level.
Accessibility
Provided that there is internet connection, employees can get access to work files from anywhere. Office is not bound to the four walls of a room.
SaaS application significantly help sales team on field. Cloud based CRM enables employees to provide personalized information and customized solution to customer's problems.
Access to Updated Version of Software
In traditional form of software, you would have to keep updating new software by yourself. Whereas, ASPs provide you with upgraded version of software overtime without charging any extra fees. Buying hardware and installing software is no longer needed.
Data Security
Protecting data is a painstaking task for any small to big organizations. After all data is a very important asset. Along with so many cost and operational benefits, SaaS is also secure when it comes to your data.
ASPs have severs scattered in multiple geographical locations, maintain multiple backup of you data and data segregation methods. Using SaaS also ensures easy recovery of data in times of disaster.
Customization
It is possible to customize application as per your organization's business process needs. Your account is preserved and upgraded without any risks.
Conclusion
Using SaaS brings several benefits to your organization. Companies that have moved to SaaS have experienced substantial business growth.
The popularity of this technology is rapidly increasing. The statistics show that many businesses are planning to adopt SaaS in their organization. Hence, to develop a competitive edge and enjoy economic and strategic benefits, your company should move to using SaaS as well.